About Bif&st-Bari International Film&Tv Festival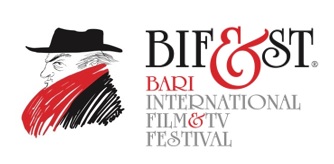 Bif&st-Bari International Film Festival reaches every year 75.000 spectators, and in just 12 editions, with its broad offer of the highest cultural level, it has become one of the leading cinematic events in Italy. The main venue of Bif&st is one of the most beautiful theatres in the world, the Teatro Petruzzelli. The 2021 edition, from September 25 to October 2, was an unparalleled event since for the first time it took place in three other beautiful theatres, newly restored, besides Teatro Petruzzelli: Teatro Piccinni, Teatro Kursaal and Teatro Margherita. The next edition of the "film festival in theatres" will take place from March 26 to April 2, 2022.
Bif&st, which is under the High Patronage of the President of the Italian Republic, is promoted and financed by Apulia Region and its Department of Culture in collaboration with the City of Bari and with the Ministry of Culture.
Honorary presidents are film directors Ettore Scola and Margarethe von Trotta. Bif&st founder and director is Felice Laudadio, former CEO of Istituto Luce, director of Venice Film Festival, of TaorminaFilmFest and of Casa del Cinema in Rome, chairman of Cinecittà Holding and of Centro Sperimentale di Cinematografia.
Many guests were awarded with the Federico Fellini Platinum Award for Cinematic Excellence throughout the years. Among the international ones: Jean-Jacques Annaud, Fanny Ardant, Luis Bacalov, Leos Carax, Costa-Gavras, Stephen Frears, Taylor Hackford, Abbas Kiarostami, Andrej Končalovskij, John Madden, Helen Mirren, Alan Parker, Jacques Perrin, Michael Radford, Edgar Reitz, Volker Schlöndorff, Barbara Sukowa, Bertrand Tavernier, Max von Sydow, Margarethe von Trotta, Andrzej Wajda. Among Italian guests: Antonio Albanese, Gianni Amelio, Roberto Andò, Dario Argento, Pupi Avati, Pippo Baudo, Marco Bellocchio, Roberto Benigni, Bernardo Bertolucci, Richard Borg, Andrea Camilleri, Claudia Cardinale, Sergio Castellitto, Liliana Cavani, Paola Cortellesi, Cristina Comencini, Paolo Del Brocco, Valerio De Paolis, Roberto Faenza, Pierfrancesco Favino, Sabrina Ferilli, Dante Ferretti and Francesca Lo Schiavo, Giancarlo Giannini, Fabrizio Gifuni, Valeria Golino, Ugo Gregoretti, Tonino Guerra, Roberto Herlitzka, Virna Lisi, Luigi Lonigro, Nicola Maccanico, Mario Martone, Francesco Maselli, Valerio Mastandrea, Giuliano Montaldo, Laura Morante, Nanni Moretti, Ennio Morricone, Ornella Muti, Nicola Piovani, Michele Placido, Domenico Procacci, Micaela Ramazzotti, Francesco Rosi, Gianfranco Rosi, Sergio Rubini, Lina Sastri, Ettore Scola, Toni Servillo, Paolo Sorrentino, Vittorio Storaro, Paolo and Vittorio Taviani, Giuseppe Tornatore, Armando Trovajoli, Carlo and Enrico Vanzina, Carlo Verdone, Paolo Virzì. All of these great professionals held a Master Class for the very large audience of the Teatro Petruzzelli (about 1.400 people for each cinema lesson).
The gala evenings, in the historical Teatro Petruzzelli, present 8 films out of competition from all over the world, in the section International Premieres. 12 other films – Italian premieres – are selected each year for the International Panorama competition, with an international jury awarding the best director, best actor and best actress. Teatro Piccinni hosts the ItaliaFilmFest section, presenting the best Italian films of the past year, awarded by a jury of renowned film critics. In the same theatre there is also a competition of 8 Italian films, absolute world premieres, introduced by their film directors and cast. Teatro Kursaal hosts the section Cinema&Fiction.
Bif&st also organizes each year important Retrospectives, among the most extended ever tributed to these masters and great cinema personalities: Carmelo Bene, Franco Cristaldi, Vittorio Gassman, Federico Fellini, Marco Ferreri, Fritz Lang, Marcello Mastroianni, Mario Monicelli, Ennio Morricone, Dino Risi, Francesco Rosi, Ettore Scola, Alberto Sordi, Giuseppe Tornatore, Gian Maria Volonté, in collaboration with Cineteca Nazionale, Cineteca di Bologna and RAI Teche. The tribute  of Bif&st 2021 was dedicated to the 20th anniversary of 01 Distribution in collaboration with RAI Cinema.